Add to cart
Hand & Body Lotions
Bush Honey & Macadamia Hand & Body Lotion
Pump 250ml
The combination of our 100% Australian Bush Honey with the rehydrating qualities of Macadamia Oil, will leave your skin feeling refreshed and replenished.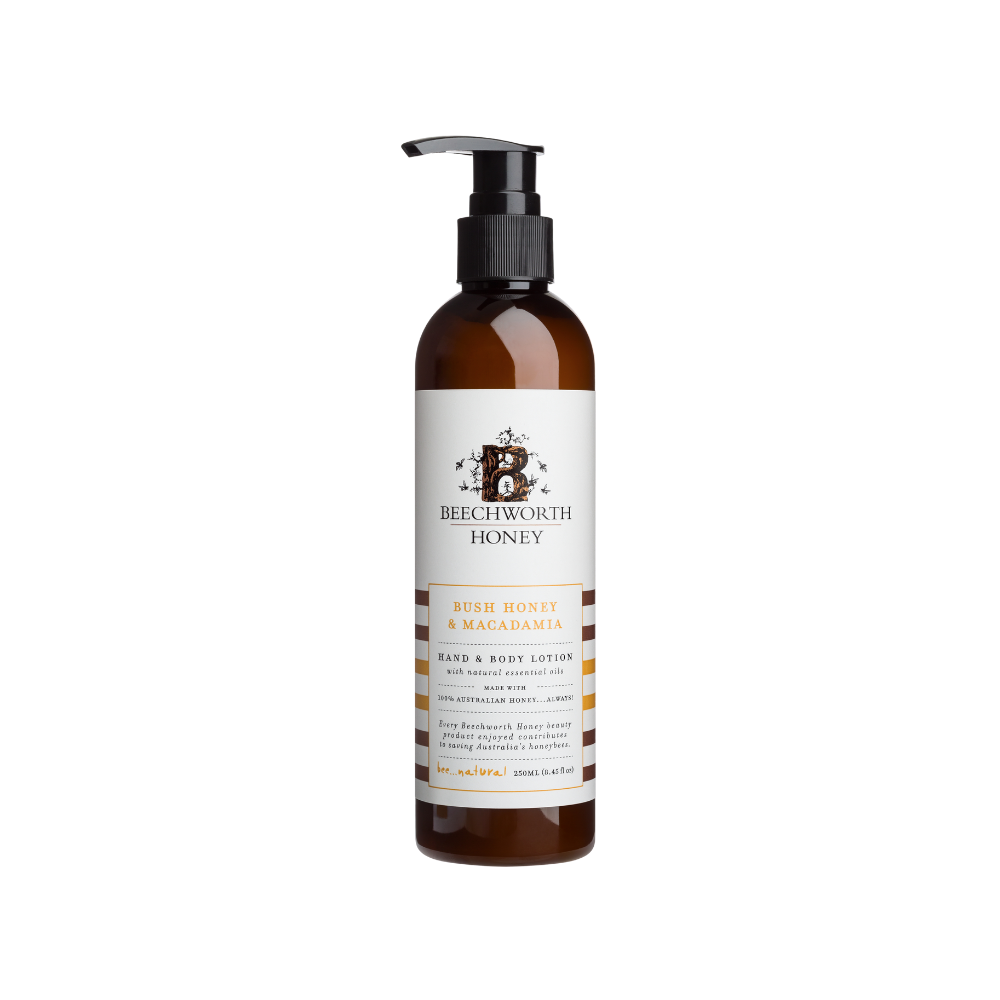 Use
Our moisturising hand & body lotions are lightweight and non-greasy, ideal for applying over the hands and body.
I love the Bush…
I love the Bush Honey and Macadamia hand and body lotion. It is not greasy and yet it moisturises!. I also love the fragrance as well! It reminds me of the smell of Australia! I highly recommend using it. A definite 5 from me!
A beautiful product. Great…
A beautiful product. Great for hands, arms, legs or face. It feels good to be using such a natural product, with a beautiful scent and knowing you're also helping our essential bees. Thank you!
As a man I…
As a man I use this product after bathing on my arms, backs of hands and neck, plus a little smear on the face. As I work outside for a couple of hours a day these areas tend to get exposure to the elements. Hence I like to moisturise them and have found this product very good. It isn't greasy and is absorbed into the skin with just a little rubbing. It also has a pleasant odour that is not what might be classed as over-feminine. I would highly recommend it to anyone, man or woman, that cares about their skin.
I do a lot…
I do a lot around the home that requires frequent hand washing so having this by the sink is essential. The cream is lightweight and the scent is subtle which is perfect for me as I'm sensitive to strong fragrances. You don't need much so it should last a long time.
Ingredients
Ingredients: Purified Water, Glycerine, Cetearyl Alcohol, Jojoba Oil, Ceteareth 20, Avocado Oil, Macadamia Oil, Bush Honey, Shea Butter, Phenoxyethanol, Natural Vitamin E, Vitamin B5, Niaouli Oil, Soya Bean Oil, Nerolina Oil, Ethylhexylglycerin, Rosalina Oil, Eucalyptus Radiata Oil, Aloe Vera Leaf Juice Powder, Lavender Oil, Lilly Pilly Extract, Sodium Hydroxide, Kakadu Plum Extract, Citric Acid, Potassium Sorbate, Sodium Benzoate, Quandong Fruit Extract.