Aussie Damper with Bush Honey
The bread of the bush! Based on an original recipe used by Aussie bushmen, our traditional damper recipe calls for only three ingredients, loosely mixed together before being cooked in the ashes of a camp fire. Best enjoyed in the great outdoors with lashings of butter and our quintessential Australian Bush Honey. Smokey, sweet and inspired by the Australian bush landscape.
Ingredients
6

cup

self raising flour

1

tsp

salt

2

cups

milk

extra milk if necessary
Instructions
Sift flour and salt into a large bowl. Add quarter of the milk and use a butter knife to mix and cut through the mixture.

Add small amounts of milk and continue cutting through the mixture with a knife. Repeat this process until the mixture begins to come together to form a loose dough. You might not need to use all the milk.

If the mixture feels too sticky, add a little extra flour and if too dry, add a little extra milk.

Bring the dough together with your hands, and roughly form it into a large ball. Avoid kneading the dough too much, as this can make for a tougher damper. 

Leave the dough to rest for 15 minutes. 

While the dough is resting, create a coal base beside your campfire and place a cast iron camp oven onto the coals to preheat. This should take about 15 minutes. (Please don't cook directly on the fire, it will make controlling the temperature too difficult - you will end up with burnt outsides and raw insides).

Place the dough into the preheated camp oven and put the lid on. Place an even scoop of coals on the lid. Let the damper cook for roughly 30 minutes, rotating the camp oven a couple of times to ensure an even heat from the campfire. 

Brush the coals off the lid and gently lift the lid. The damper should be a rich golden colour. To check if the damper is cooked properly, insert a knife or skewer, it should be clean. If not, return to the oven for another 10 minutes.

*If you're cooking at home, preheat the oven to 200 degrees celsius (fan-forced) and place the damper on a lined baking tray on the bottom shelf. Bake for 25 minutes or until a rich golden colour is achieved.

Best enjoyed in the great outdoors with lashings of butter and a generous drizzle of Bee Cause Bush Honey. 
Nutrition
Calories:
375
kcal
Carbohydrates:
71
g
Protein:
13
g
Fat:
4
g
Saturated Fat:
1
g
Polyunsaturated Fat:
1
g
Monounsaturated Fat:
1
g
Cholesterol:
7
mg
Sodium:
316
mg
Potassium:
185
mg
Fiber:
2
g
Sugar:
3
g
Vitamin A:
101
IU
Calcium:
89
mg
Iron:
1
mg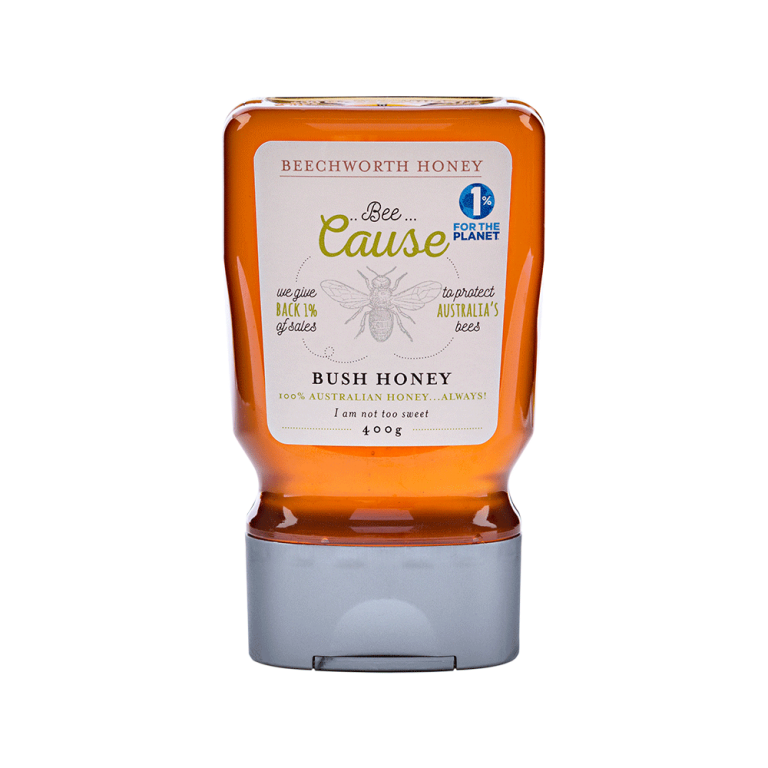 FEATURED
Bee Cause Bush Honey Squeeze 400g
Bee Cause Bush Honey is the quintessential Australian eucalypt honey, clean, smooth and uncomplicated with a medium sweetness and mild aftertaste. It is produced in locations we all dream of disappearing to. Beautiful Australian bush with clean air and magnificent eucalypt trees.