Vanilla Ice Cream with a Bee Cause Coastal Honey Caramel Swirl
Our decadent 'no-churn' Vanilla Ice Cream is super creamy and certainly not heavy. Cue a deliciously rich honey caramel swirl using our Bee Cause Coastal Honey. It's like bringing the beach to your kitchen. The perfect scoop!
Ingredients
Ice Cream
1

can

sweetened condensed milk

(395g)

2

cups

thickened cream

2

tsp

vanilla extract

1/4

tsp

salt
Honey Caramel Sauce
1/2

cup

brown sugar

3

tbsp

unsalted butter

1/2

cup

Bee Cause Coastal Honey

1

tsp

salt

1/4

cup

thickened cream
Instructions
In a bowl, combine the sweetened condensed milk, vanilla extract and salt and set aside. 

In a separate bowl, beat the cream on medium speed until it forms soft peaks. 

Add approximately 2 tablespoons of the cream to the condensed milk mixture and fold it in. Add the condensed milk mixture to the remaining whipped cream and lightly fold through until well combined. 

Pour mixture into a loaf tin or similar and freeze for 2 hours. 

While the ice cream is in the freezer, make the honey caramel sauce by placing the butter, cream, brown sugar, salt and honey in a saucepan over medium heat and stir until the sugar is dissolved. Bring to the boil, then reduce the heat and simmer for 3-4 minutes or until thickened slightly.

Remove from the heat and set aside. The sauce will thicken slightly as it cools. Ensure caramel has cooled prior to mixing through ice cream. 

After 2 hours in the freezer, remove the ice cream and gently drizzle the caramel sauce over the top, lightly swirling the caramel through the ice cream, aiming to have thick swirls of caramel throughout. 

Return the ice cream to the freezer for a further 3 hours or until fully set.

Serve with any additional honey caramel sauce drizzled on top.
Notes
For some added crunch, try stirring through some Beechworth Honey Chocolate Coated Honeycomb pieces. We say the more the merrier when it comes to honey!
Nutrition
Calories:
4349
kcal
Carbohydrates:
479
g
Protein:
48
g
Fat:
262
g
Saturated Fat:
166
g
Polyunsaturated Fat:
11
g
Monounsaturated Fat:
67
g
Trans Fat:
1
g
Cholesterol:
830
mg
Sodium:
3597
mg
Potassium:
2235
mg
Fiber:
1
g
Sugar:
478
g
Vitamin A:
9979
IU
Vitamin C:
14
mg
Calcium:
1592
mg
Iron:
3
mg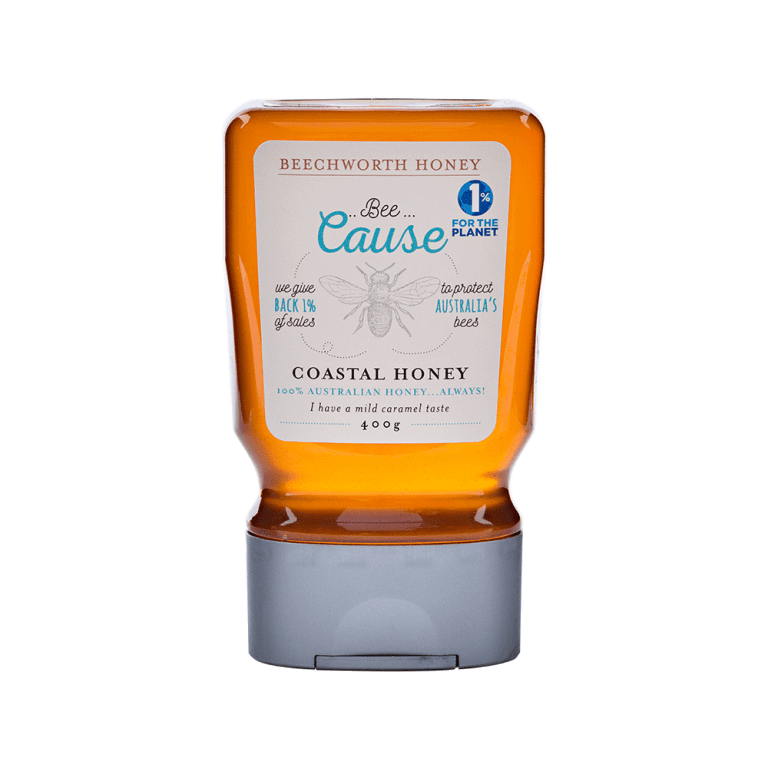 FEATURED
Bee Cause Coastal 400g Squeeze
Bee Cause Coastal Honey is a bright, clear, light amber to pale amber honey with a deliciously mild & delicate flavour. Salt air, a warm to hot coastal climate and breezes produce a deliciously delicate flavour which brings sunshine and nature to any occasion.