Add to cart
Kitchen
Honey, Banana & Walnut Loaf Baking Pack
For the keen baker and honey lover in your life, our Honey, Banana and Walnut Baking Pack includes all the essentials to create delicious cakes and loafs at home.
Includes a Beechworth Honey Traditional Honey 950g reusable jar you can repurpose to store walnuts or your favourite pantry staples.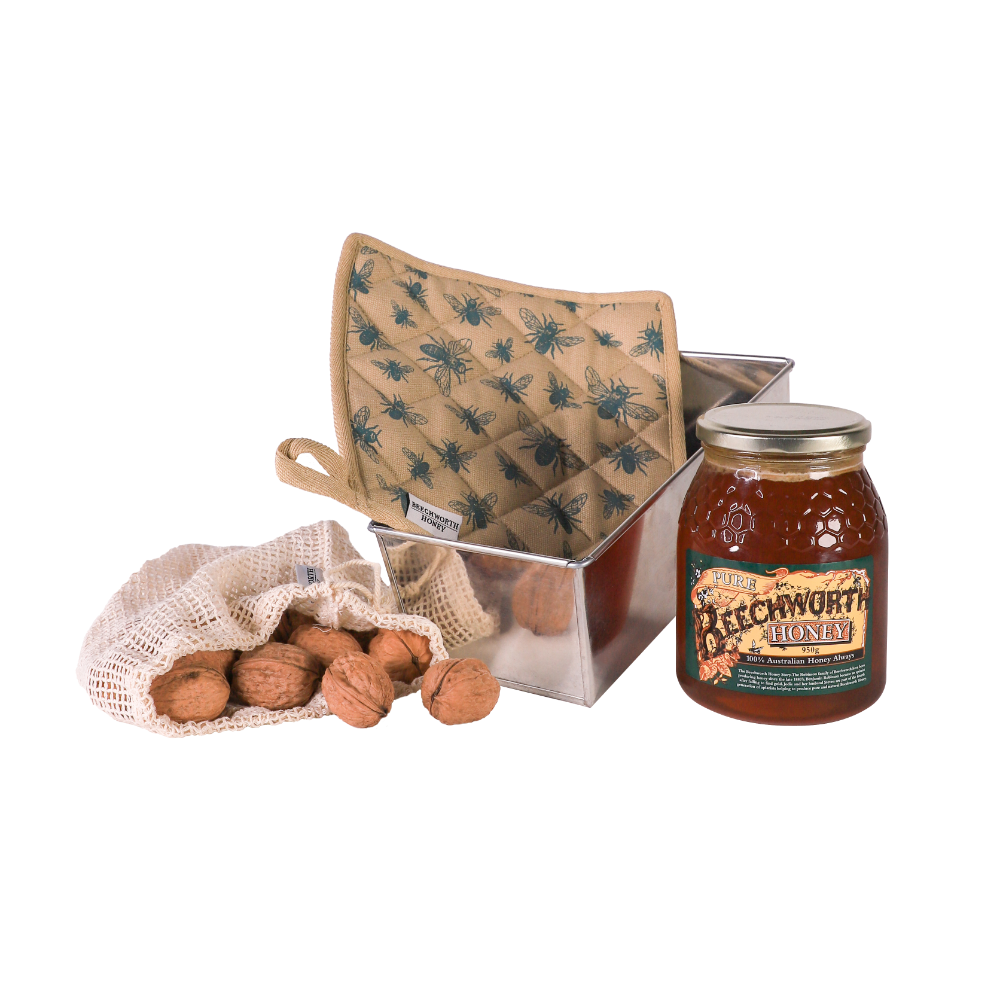 What's Included?
1 x Beechworth Honey Traditional Honey Jar 950g
1 x Loaf Tin 23cm x 12cm
1 x Honey Bee Pot Holder
1 x Reusable Mesh Vegetable Bag
200g Walnuts
Honey, Banana & Walnut Loaf Recipe Card
Wash the cake tin in warm water and detergent, then dry thoroughly in a warm oven. Do not use abrasives of any kind. Season tin with a light coat of oil to protect the tin coating and help prevent corrosion.
Ingredients
Beechworth Honey Traditional Honey
100% Australian Honey
Australian Walnuts
100% Australian Walnuts
Allergen Advice
Australian Walnuts
This product contains whole walnuts.
You may also like
Honey Gifts & Packs
Mini Trio
Gift Pack 45g x3
Gift Pack 45g x3
$

9.50
A sweet little introduction to the world of single varietal honeys
Honey Gifts & Packs
I Love You, Honey
Jar 375g
Jar 375g
$

8.50
A thoughtful and delicious gift for the special person in your life.
Honey Gifts & Packs
Create Your Own Hamper (Premium) – Large
$

7.95
Build your own Beechworth Honey Premium Gift Hamper