The Magic of Beeswax
Today is the shortest day of the year for us southerners. It means warming near the fire, burning beeswax candles, sipping on red wine, playing board games and getting out in nature amongst the fog, drizzle and brilliant winter sunshine.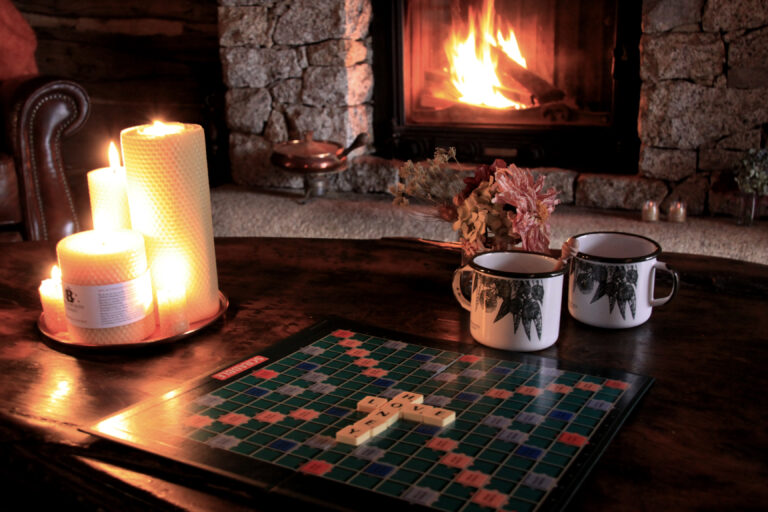 The winter solstice is a mystical night, revered by traditional cultures with fire as a symbol of light to scare away spirits during the longest and darkest night of the year.
To celebrate the solstice, we have been lighting our beautiful beeswax candles and enjoying the charms of an open fire.
The Magic of Beeswax
Beeswax is simply magic. Its gentle aroma is a combination of the honeybee, the hive and the surrounding nature. The smaller the piece the more easily softened it is just from the warmth of your hand. Its tactile, mouldable, malleability and its unique antibacterial and antimicrobial properties make it highly useful for so many things.
Beeswax has always been commonly used in our household for as long as I can remember. I recall my mother always using a block of beeswax to "wax" her heavy duty cotton threads to strengthen and waterproof them before she skilfully stitched up broken bridles, stirrup leathers or lead ropes for our horses on our farm.
My earliest memories of beeswax are actually eating it chocked full and overflowing with honey. You see when the bees run out of room in their hives they fill every spare space with "burr comb", a kind of free style honeycomb structure that they industriously churn out and stuff full of honey during the headiest and heaviest honey flows. My dad would always proudly scrape the burr comb off the top of a hive with his hive tool and present it, dribbling and dripping, as a unique offering from his labours and the bees, pushed toward you with pride and jubilation at how the honey was "pouring in". We filled our mouths with it and chewed and sucked it separating the warm honey from the chewy wax which remained as a natural piece of chewing gum to be savoured long after the honey was gone.
Today Steven specialises in producing honeycomb squares from our own hives and I always love it when I see families buying it to give the gift of experiencing natural honeycomb to their children.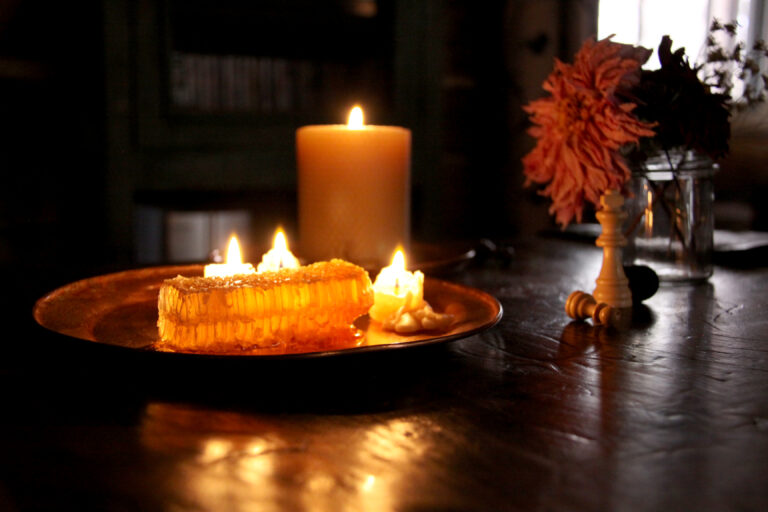 Why Do Bees Make Beeswax?
Beeswax is the structure that bees make and use to construct their perfectly proportioned hexagonal shaped hive architecture. It acts as the reciprocal for honey, pollen, and eggs which hatch into larvae and then brood (baby bees). Adult bees emerge from their cell chewing their way through it to face the precise and ordered life inside the hive. The bees clean and inspect it and use it over and over again. It is completely recyclable both in the hive by the bees and also outside the hive.
Beeswax is precious. Bees work incredibly hard to make beeswax. They need to consume eight times the amount of honey to make one single unit of beeswax.
"To produce 1kg of beeswax bees need to eat 8kg's of honey. "
How is Beeswax Made?
This is why beeswax candles are expensive in comparison to paraffin petrochemical or soy waxed based candles.
Beeswax is a product that the bees under their own intricate social system begin producing when they are precisely 12 days old. If you are a worker bee in the honeybee colony you will graduate to become a "wax builder" for the next 5-6 days of your life, up until you are 17 days old. This is the case for every single worker bee in every colony, in every country everywhere in the world.
Incredibly and magically the honeybee at day 12 begins to secrete tiny opaque plate shaped pieces of wax from the underside of its abdomen which it then moulds and shapes to be used throughout the hive, to either reconstruct honeycomb cells, cap over ripened honey or build new honeycomb. If you watch closely inside the hive you can often see this happening provided there are enough honey supplies to sustain the energy requirements of the bees and there is a need for wax within the hive.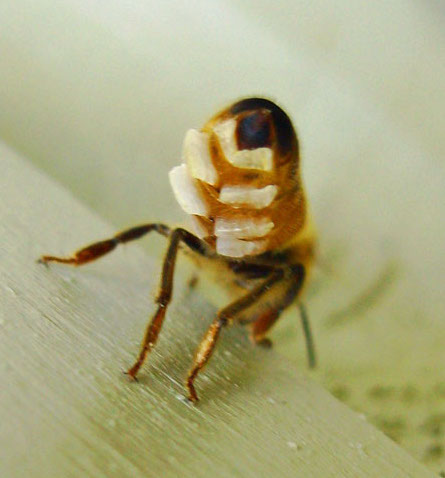 Pure Australian Beeswax
Beeswax is the earliest product that I sold from the hive at aged 10. I graduated from annoying my parents in the extracting shed by dipping all my fingers in the wax, making removable wax finger puppets to making cupcake sized wax moulds with my mother. We slowly melted down the wax and poured it into patty cake tins, very careful not to spill or waste a drop. We individually wrapped and sold each block to a local craft shop in Beechworth. I loved this little enterprise. I couldn't wait to get another order and to begin the process over again.
Today we sell larger beeswax blocks to high end beeswax markets in Japan and elsewhere. Australian beeswax is the cleanest beeswax in the world. Because we don't use chemicals in our honey production systems here in Australia (because we are free of the world's deadliest bee diseases) and because we have a clean green predominantly forest based environment where our bees work our beeswax is highly sought after because it doesn't contain chemical residues. (This also makes our honey the cleanest honey in the world also). Our customers use our beeswax as an ingredient in foods, cosmetics, in printer toners and as a tiny thin coating to cover pharmaceutical pills and tablets.
I've never really gotten over or gone past beeswax. I love it. I love to touch it and I love to smell it. To this day, one of the loveliest jobs I retain is the hand pouring of our beeswax candles with our daughters. I call it my "therapy", it's where I can get into my own quiet zone and I love seeing what I have achieved through my efforts.
I have thoroughly enjoyed sharing my joy of using beeswax by teaching some of our staff to hand roll and work with beeswax and by sharing my beeswax recipes and experiences in bespoke beeswax classes in our Hive Kitchen at our Bee School. Each time we have a school group visit I love it that we share a small piece of honeycomb foundation and a piece of wick with them to take home and roll their own mini candle.  I have evolved our traditional family's uses of this beautiful product into the creation of our beautiful Bee Balm which is made with both beeswax and honey. We use this product on absolutely every part of our skin that is dry, lips, elbows, heels, to soothe sun weathered skin or cover over a scratch. If you're in Beechworth you will find our staff wandering through our store offering tests of this incredible product.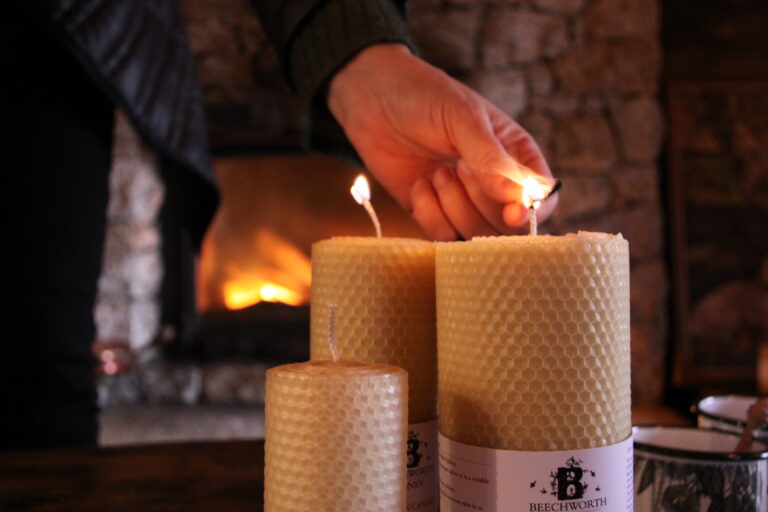 Buy Beeswax Online
You can buy 100% pure Australian beeswax online and we'll deliver it to your home. Check out our range of beautiful beeswax candles and products here.