Honey Lemon & Ginger Gummies
Honey, lemon & ginger - the superhero ingredients of winter. Packed with beneficial elements from lemon, honey and gelatin and a gentle kick of ginger, these gummies are a quick and easy family staple.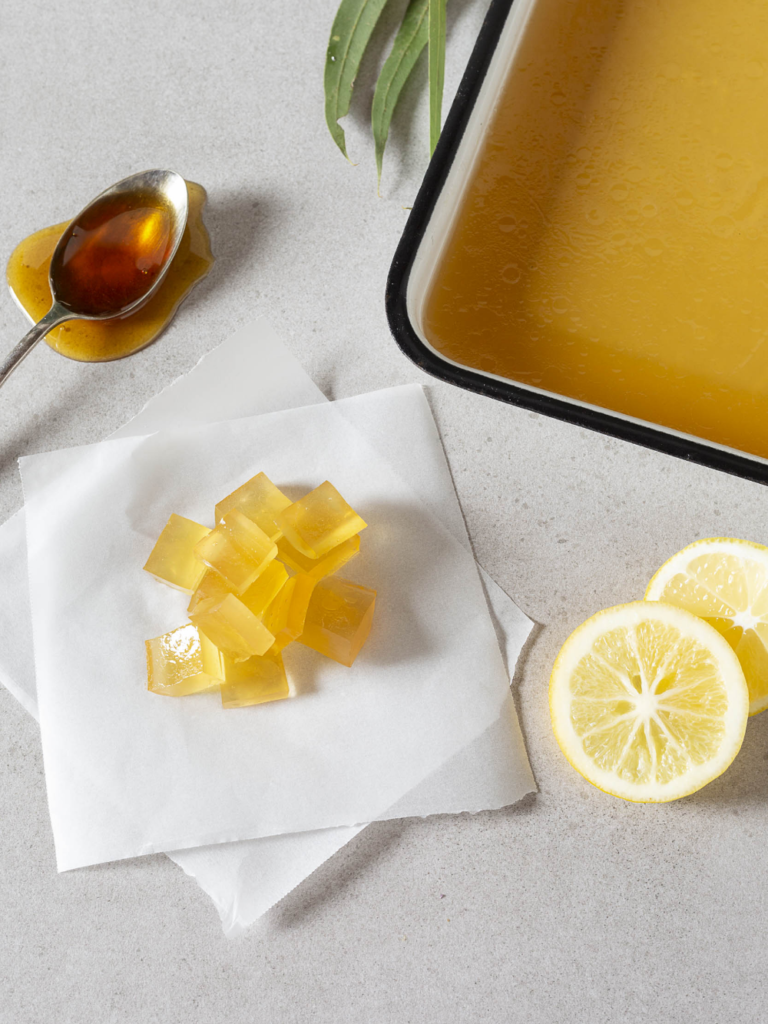 Ingredients
4

tbsp

honey

1/2

cup

freshly squeezed lemon juice

1 1/2

cups

water

1 1/2

tsp

freshly grated ginger

1/4

cup

powdered gelatin

(grass fed, organic if possible)
Instructions
Instructions
Pop lemon juice and one cup of filtered water in a medium pot and bring to the boil. Remove from heat and add grated ginger. Leave to infuse for 5 minutes.

While ginger is infusing, pour the remaining 1/2 cup of water into a bowl. Sprinkle over gelatin and leave to bloom.

When ginger has infused, strain into a jug or bowl, discarding the ginger sediment. Transfer the bloomed gelatin mixture into the ginger-lemon water and whisk until completely dissolved and free of lumps.

Stir in the honey. Taste for sweetness and adjust to your taste.

Pour into moulds or into a a lined baking tray. Pop into the fridge until set. This should take a few hours.

Remove from moulds or if using a large tray, cut into small even squares.

Store in an airtight container in the fridge for up to a week. (If they last that long!)
Notes
*This honey recipe does not constitute medical advice, please consult your doctor or healthcare professional.