Oven Baked Doughnuts Filled with Beechworth Bee Creamy Honey
If there was ever a day to bring out the ultimate dessert, today is that day! This simple 'from-scratch' recipe yields perfectly fluffy doughnuts ready to fill with your favourite Beechworth creamy honey variety. We used Bee Creamy Honey & Cinnamon! What makes this recipe even better, they're cooked 100% in the oven, no deep frying necessary.
Ingredients
180

ml

milk

2

tsp

dried yeast (7g)

500g

strong baker's flour

pinch

salt

50

g

Beechworth Honey

70

g

melted butter

2

eggs

(lightly wisked)

1

jar

Beechworth Honey Bee Creamy Honey
Instructions
Warm the milk, plus a little squeeze of honey (this will help activate the yeast) in a saucepan over low heat. Gently heat and stir the milk until it's lukewarm. Remove from the stove and combine with yeast in a jug or bowl for approximately 10 minutes. If the yeast is happy, you will notice a foamy top. This means it's ready to go!

Gently warm the remaining honey and butter in a saucepan over low heat until runny.

Combine flour and salt in a large mixing bowl, and create a well in the middle. Add yeast & milk mixture, honey and butter, and the two lightly whisked eggs to the bowl and combine together with a wooden spoon, until a rough dough forms.

Bring mixture together with your hands, and turn out onto a clean surface, lightly dusted with flour. Knead the dough for 5 minutes, until firm and shiny. If you press your finger into the dough and it springs back, it's ready!

Cover the mixing bowl with a dampened tea towel, and set aside in a warm place for approximately 1 hour.

Tip the dough mix onto a large piece of greaseproof baking paper. Cover the dough with another large piece of baking paper and gently roll out the dough to about 3cm in thickness.

Grab a round cookie cutter, between  5-7cm and cut out circles from your rolled out dough. Gently lift each bun onto a lined baking tray, spacing about 3cm between each bun. This mix will make around 14 doughnuts, so we would recommend two pre prepared trays.

Cover and set aside for another hour.

While the doughnuts are proving for the second time, decant a jar of Beechworth Creamed Honey into a bowl and mix vigorously to loosen the honey up, ready for piping. We're alternating between Choc Hazelnut and Cinnamon (hello Easter!). Scoop into a piping bag with the small nozzle inserted. (If your Creamed Honey is a little too firm to scoop out easily, submerge the jar in a deep bowl of hot water, with the lid on of course!

After the second prove, the raw doughnuts should now resemble soft round pillows, ready to bake. Bake in the oven for 10 mins, until deep golden brown.

When cool enough to handle, brush or roll each donut in the melted butter, and roll lightly in sugar or cinnamon sugar mix. Our hot tip is to keep a wet hand and a dry hand for this step - it can get a but messy!

Finally, insert a sharp paring knife into the side the donut, about ⅔ of the way through and pipe a good squeeze of creamed honey, we've gone with Bee Creamy Honey & Cinnamon.
Nutrition
Calories:
4293
kcal
Carbohydrates:
835
g
Protein:
89
g
Fat:
81
g
Saturated Fat:
44
g
Polyunsaturated Fat:
8
g
Monounsaturated Fat:
21
g
Trans Fat:
2
g
Cholesterol:
496
mg
Sodium:
746
mg
Potassium:
1391
mg
Fiber:
20
g
Sugar:
463
g
Vitamin A:
2526
IU
Vitamin C:
3
mg
Calcium:
385
mg
Iron:
9
mg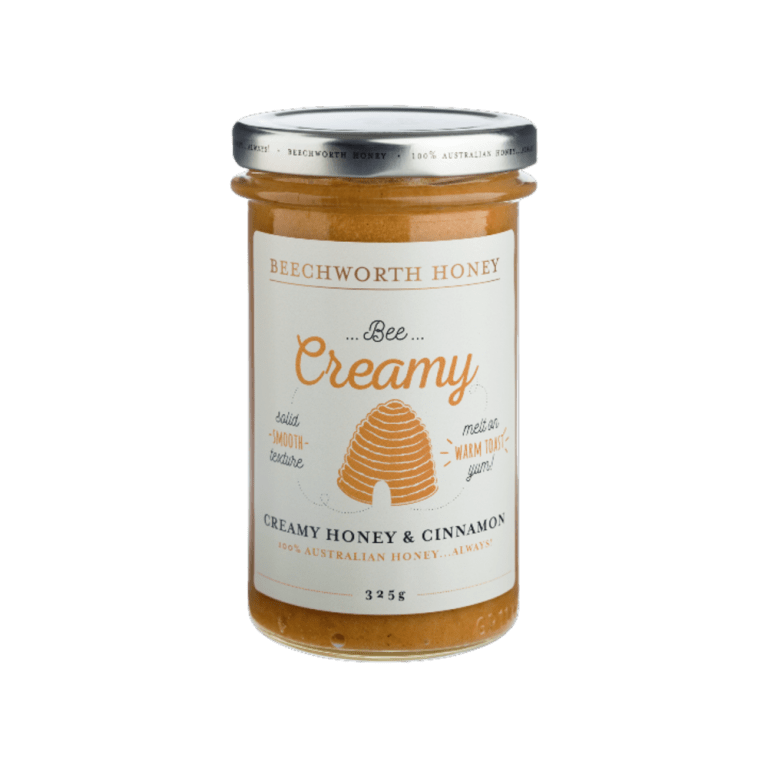 FEATURED
Bee Creamy Honey 325g Jar
Creamy Honey & Cinnamon adds a special warm twist to the much loved creamed honey. There are so many ways to enjoy the spicey, sweet combination of honey and cinnamon. Treat yourself to a new flavour combo!