Lavender & Bees – A Garden Love Story
Beechworth Honey founder, Jodie Goldsworthy shares her love of all things lavender.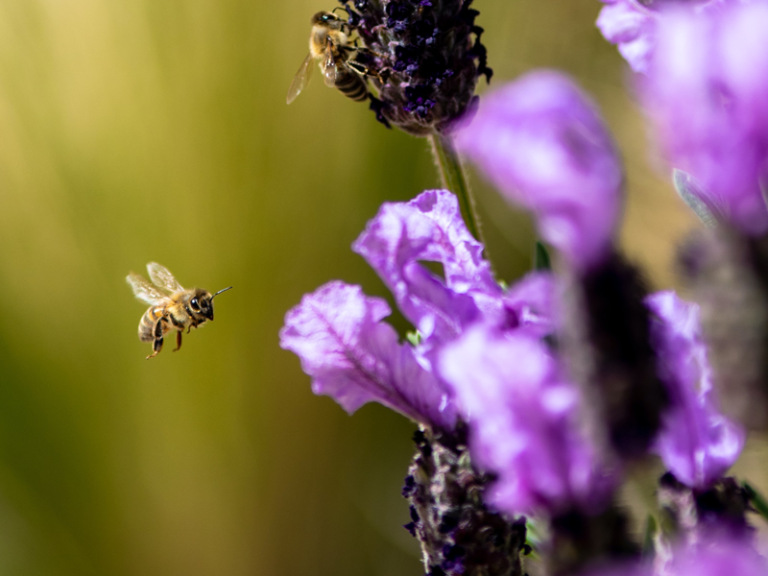 Lavender is one of those plants that flowers for absolutely ages and is hardly ever seen without a mass of bees all over it. The various types of this beautifully showy plant can be planted to ensure that there is always some type of lavender on the menu for the bees in your garden.
Many lavender flowers happen to be purple which does not go unnoticed by the bees. Purple is one of the colours that bees find most attractive. So when choosing a lavender from the nursery, if you're interested in planting for the bees, be sure to keep this in mind.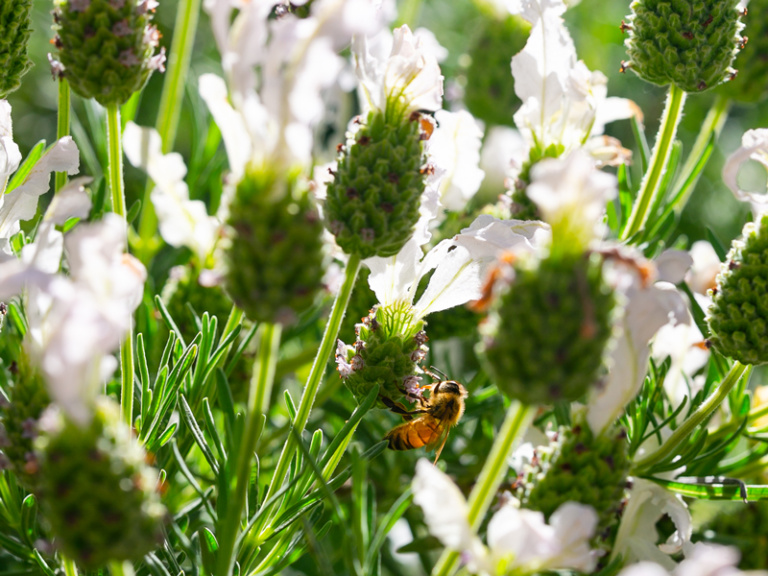 The Many Wonderful Varieties of Lavender
French Lavender
In spring, the lavender that is most likely flowering profusely with bees all over it will be French lavender (Lavendula dentata). It starts to flower in late winter and continues to flower on through to the early summer months, with a mass of strong blooms on top of soft to touch grey green lance shaped leaves. I love this lavender because it gives the bees something to forage on during those warmer late winter days when the rest of the garden is still fast asleep.
English Lavender
My other all time favorite lavender is the common English lavender (Lavandula angustifolia). It's flowers emerge in late spring and I usually wait as long as I can to clip all its flowers in late April or May giving the bush a rest for the winter. I am sure this lavender makes the bees drunk – I have never been stung by any of our bees when they are totally engrossed within the flowers and gorging themselves on our English lavender bushes. I am sure they are too intoxicated to sting me!
Spanish & Italian Lavender
There are almost 50 different types of lavender which the bees also love, with some of the common ones coming from Spanish & Italian Lavender (Lavandula stoechas) which are also known as topped lavenders or the Butterfly or Rabbits Ears Lavender (Lavandula pedunculata).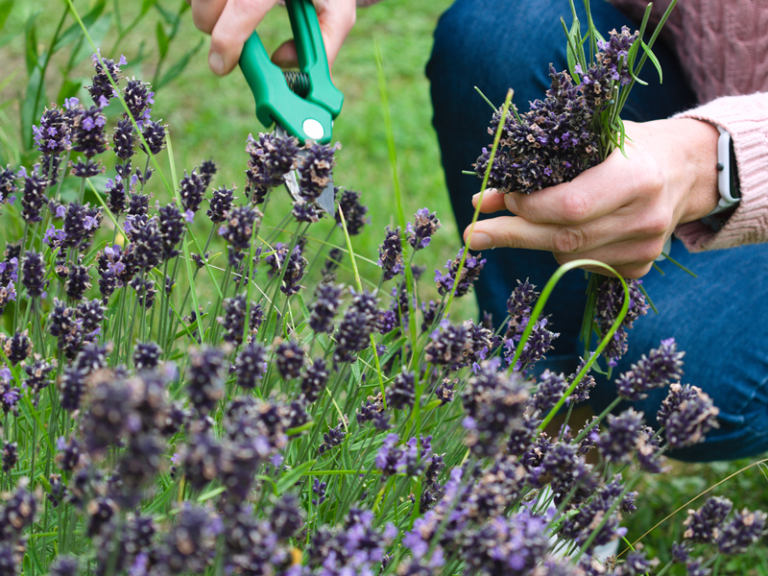 Maintaining Your Lavender
Lavender performs best if cut back by about one third each year, after they have finished flowering. This brings more flowers the following year, keeps the plants strong and healthy and prevents them from getting straggly.
In Beechworth, our lavender tolerates very hot summers, frost and even snow in the winters. They don't require much watering and I mostly pick off cuttings and shove them into moist soil in late autumn or early spring to expand our rows of lavender for any bees around our garden. I find English lavender that I've planted like well drained soils best and the French and Italian varieties don't mind heavier soils.
We mulch heavily in summer and ensure that we always plant our lavender in really sunny spots in the garden. I've planted them along paths so as to enjoy their delicate scents when you brush past them. The air filled with lavender takes you to a dreamy place, I do know how the bees must feel!
Lavender Honey?
I often get asked how do you get Lavender honey? Sadly no, the reality is that it's almost impossible to plant enough lavender in your garden or to find hectares of it for the hives to produce excess nectar that we can remove as a single varietal honey from the hives. Usually we just find that our home hives are collecting enough nectar for themselves and it's usually mixed with other things flowering in the garden or the paddocks. We never take honey when there is not an obvious excess – the bee's health is paramount!
I'm dreaming of planting a big enough field of lavender that one day we might be able to put a few hives on to produce speciality lavender honey just as they do in some of the really big plantations in the Mediterranean – I'll keep working on that!
– Jodie